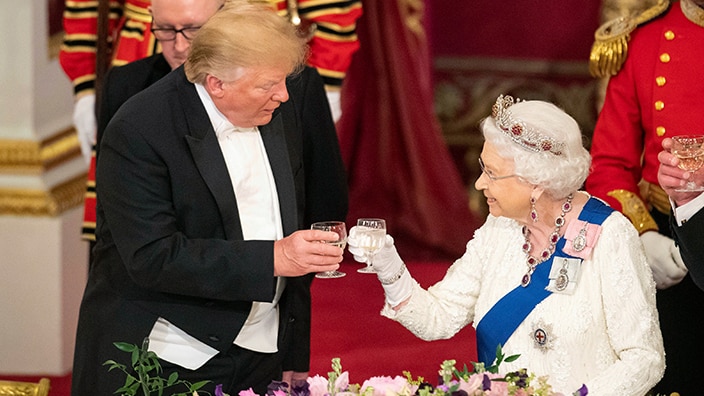 Trump and Khan have repeatedly clashed ever since the Pakistani-origin mayor questioned the red carpet being rolled out for the US President by Britain, most recently for a state visit hosted by Queen Elizabeth II earlier this month.
London Mayor Sadiq Khan lashed out against the Government today, blaming the murders on "massive cuts" to police funding.
The US President's latest intervention on Twitter follows in the same vein, demanding that Khan should be replaced. "Khan is a disaster - will only get worse!' A spokesman for Mr Khan said: 'Sadiq's thoughts are with the victims" families.
On Saturday afternoon, a man in his thirties was stabbed to death at Tower Hamlets in east London, the news broadcaster also reported.
Sadiq Khan did not meet with Mr Trump and made it very clear that he did not think that Trump should be welcomed in the United Kingdom - and even filmed a video saying that before the President's arrival. "Khan is a disaster - will only get worse", Mr Trump said on Twitter, days after labelling Mr Khan a "stone cold loser" recently.
He said Mr Khan was "rightly supporting the police to do their job while Katie Hopkins spreads hateful and divisive rhetoric".
"They seek to divide at a time we need to come together".
Police said 14 people, including several boys and a girl, had been arrested in connection with the incidents, which they did not believe were linked.
As a clinical psychologist working with young people in Tower Hamlets, east London, I see so much of their hope, potential and optimism extinguished by the grinding reality of lack of proper educational opportunities, lack of job prospects and genuine bewilderment about why some people have so much money while they, and their families, can not afford to eat.
Trump's verbal attack on Khan was in reaction to the killings of three men in London which happened within 24 hours.
Mayor Sadiq Khan said on Friday that he was "sickened to hear that two young lives have been ended within minutes of each other".
"We have increased the coverage of the Violent Crime Task Force in targeted areas across London this weekend and officers from across the boroughs, supported by colleagues from specialist units, will continue to undertake high-visibility patrols which will remain in place today and into the start of the week".
The bloodshed brought the number of murders in London this year to 59.