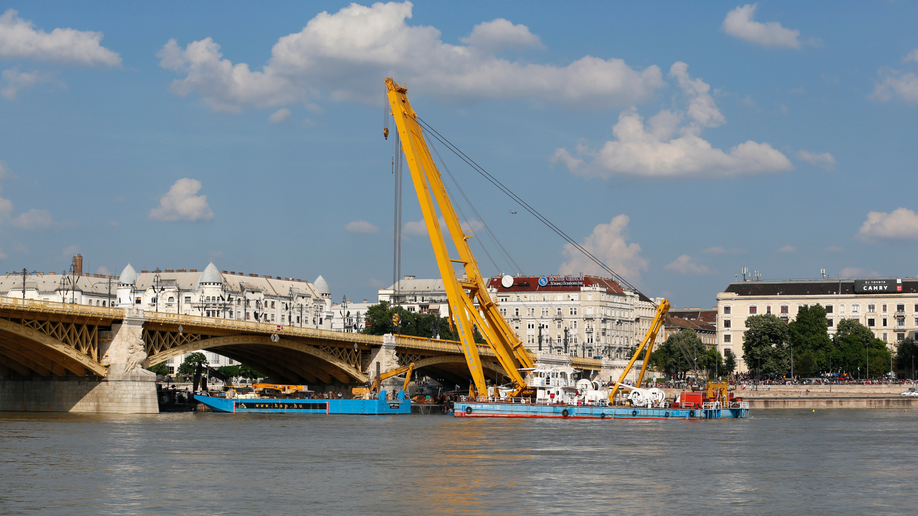 Meanwhile the bodies of four Korean victims along with two survivors arrived back in Korea on Monday.
Early on Tuesday rescuers were seen carrying away the remains of several victims on stretchers to a small police cruise boat docked nearby.
So far, 19 South Korean tourists and a Hungarian crewman are confirmed dead from the collision that occurred late at night and during stormy weather.
If all goes well, the wreck will be placed on a barge near the crane, from where it will be taken over by Budapest police investigating the collision.
Where a boat carrying mostly Korean tourists sank and took lives.
The captain of the larger vessel, the Viking Sigyn, has been under arrest since June 1. The incident, which took place nearly 2 weeks ago, led to at least 20 deaths. and eight people still missing.
Officials conduct the recovery operation of the sunk shipwreck at Margaret Bridge, the scene of the fatal boat accident in Budapest, Hungary, on, June 11, 2019.
Hableany (The Mermaid) collided with a cruise ship on May 29.
Receding floodwaters had allowed the salvage crews to raise the vessel after two weeks of often arduous work in strong currents and poor visibility.
Korean authorities thanked the Hungarian people for their prompt support and cooperation leading up to the salvage process. and sent their condolences to the victims and their families.
The lifting of the vessel from the water is planned in several stages, depending on factors such as the condition of the hull and the discovery of bodies.
Preparations for taking the boat from the river are expected to be finished by the end of the day, while the actual operation may begin in the evening.
Seven South Koreans were rescued after the nighttime collision May 29 amid heavy rain.
The rest of the 70-year-old boat was then slowly brought to the surface with pumps removing water from the hull to stabilise it, and lifted on to a barge.
The captain of the cruise liner Viking Sigyn - a 64-year-old man identified by police as C. Yuriy from Odessa, Ukraine - is being held as a suspect.