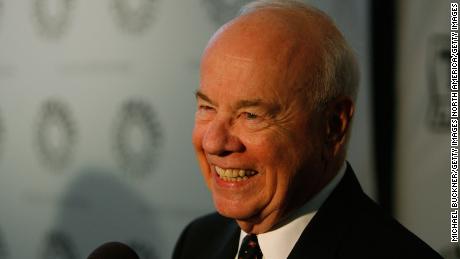 Tim Conway, the Emmy Award-winning actor best known for his role on "The Carol Burnett Show", has died, his publicist said Tuesday.
Conway died at 8:45 a.m.in the Los Angeles area. Prior to his death, he had suffered complications from normal pressure hydrocephalus (NPH) and had no signs of dementia or Alzheimer's, Bragman said.
"The Carol Burnett Show" aired on CBS from 1967-1978.
Comedian Larry Wilmore led tributes on social media, tweeting, "RIP to Tim Conway who was always always always always amusing!"
"When I was a kid watching 'The Carol Burnett Show, ' no one made me laugh harder than Tim Conway".
Following the Allen show, Conway gained attention as the incompetent Ensign Charles Parker on the Ernest Borgnine sitcom "McHale's Navy" from 1962-66.
Conway's other most memorable recurring characters included an elderly man whose shuffling pace always caused trouble and Mr. Tudball, a businessman plagued by an indifferent and inept secretary played by Burnett.
Beloved actor and comedian Tim Conway has passed away at the age of 85, his family confirmed Tuesday morning. He joined the cast of the show in 1975 as a regular after frequently appearing as a guest. He later voiced Mermaid Man and Barnacle Boy in Spongebob Squarepants and also won additional Emmys for his roles in Coach and 30 Rock. Born Thomas D. Conway on December 15, 1933, in Willoughby, Ohio, he grew up in the curiously named community of Chagrin Falls, which later inspired his unique comedy routines.
Marie also helped Conway change his name - from Tom Conway to Tim Conway.
Burnett will dedicate a previously scheduled performance of her one-woman show, An Evening of Laughter and Reflection Where the Audience Asks Questions, to Conway's memory tonight in North Carolina.
Conway is survived by his wife of 35 years, Charlene, a stepdaughter and six biological children from his first marriage, including KFI-AM talk show host Tim Conway Jr.