He also praised communities in New Zealand for standing in solidarity with their Muslim neighbours.
Thousands of New Zealanders have paid tribute to the fifty victims of the mass shootings in Christchurch one week ago today. "Thank you PM @jacindaardern and New Zealand for your honest empathy and support that has won the respect of 1.5 billion Muslims after the terrorist attack that shook the Muslim community around the world", he tweeted.
The New York Times on Friday praised Ardern's handling of the aftermath of the Christchurch terror attack, affirming that "the world should learn from the way Jacinda Ardern, New Zealand's prime minister, has responded to the horror".
Australian Brenton Tarrant, 28, a suspected white supremacist who was living in Dunedin, on New Zealand's South Island, has been charged with murder following the attack. We have to be cautious also about power hungry political leaders who exploit hate as a vessel for political gains.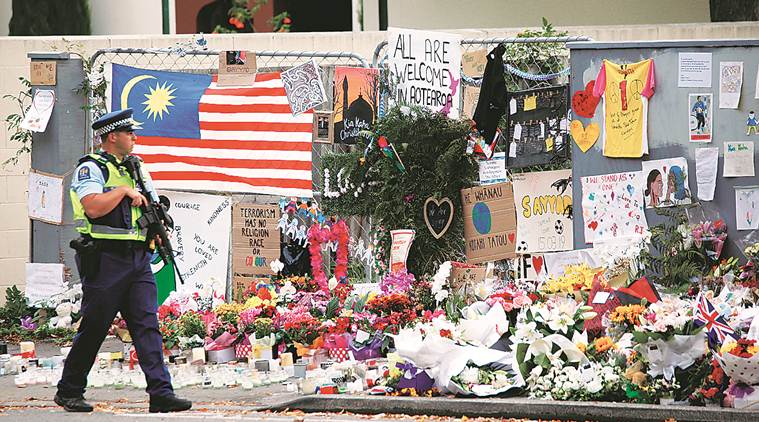 A makeshift memorial outside the Al Noor Mosque in Christchurch New Zealand
Her message was clear: The New Zealand government would stand by the victims and the Muslim community and wholly denounce violence.
The call to prayer was broadcast live on New Zealand television and radio.
The burials come hours after thousands gathered in a Christchurch park for Friday prayers, including Prime Minister Jacinda Ardern.
"I wanted to say: "We are with you, we want you to feel at home on your own streets, we love, support and respect you", Ashman said.
The massacres sparked at least two movements to show support for New Zealand's Muslim community on Friday.
Worshippers have visited a New Zealand mosque as it reopened for the first time after dozens of people died there in a mass shooting.
"We are broken-hearted, but we are not broken", he said.
"A call to prayer.in unity there is strength", New Zealand Herald said on its front page.
Reuters reported that female police officers at the outdoor service donned headscarves and wore red roses on their uniforms.
Muslims account for just over 1 percent of New Zealand's population, most of whom were born overseas.
Following the attacks, Ms Ardern announced that there would be a ban on all types of semi-automatic weapons, adding that the new legislation would be in place by 11 April.