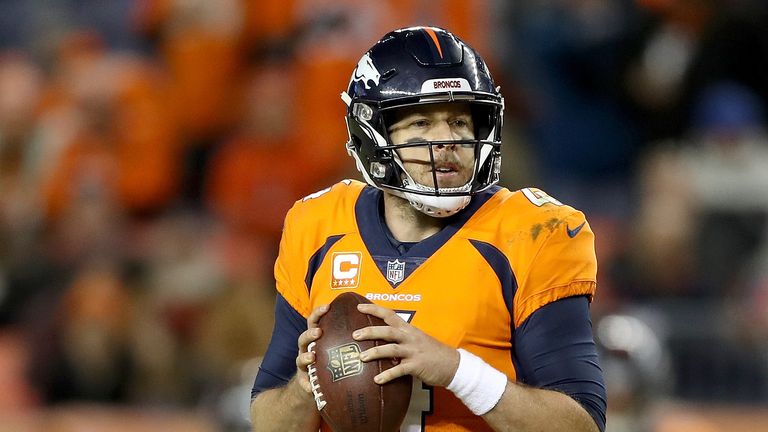 The Redskins have acquired quarterback Case Keenum in a trade with the Denver Broncos, Craig Hoffman of 106.7 The Fan confirms.
In exchange for Keenum, the Broncos will get the Redskins' sixth draft pick next year, while the Redskins will receive the Broncos' seventh pick and Keenum, according to the NFL. The deal will not be official until next week when the NFL's new league year begins.
Keenum faced an uncertain future after the Broncos agreed to acquire Baltimore's Joe Flacco.
There's no point in all in carrying the contracts of Flacco and Keenum at the same time, especially when Keenum would just ride the bench in that situation.
A year ago, Keenum was coming off a career year in Minnesota, where he went 11-3 and led the Vikings to the NFC championship game. The Broncos signed Keenum previous year, guaranteeing him $26 million.
The only other quarterback on the Redskins' roster is Colt McCoy, whose cap hit is $3.375 million for 2019.
As part of the deal, Denver will pay Keenum a $500,000 contract restructuring bonus and will pick up half of the quarterback's $7 million in guaranteed for 2019. Though John Elway indicated he wanted Keenum to stay with the team, trading him is a move you can't argue with.
Washington needed to add depth under center as Alex Smith continues to recover from a broken leg he suffered during the 2018 season.
Washington will be getting Keenum at a discount.
But Twitter were not impressed with the Keenum addition.
The Broncos lost their final four games, finishing 6-10 for their first back-to-back losing seasons since the Nixon Administration.