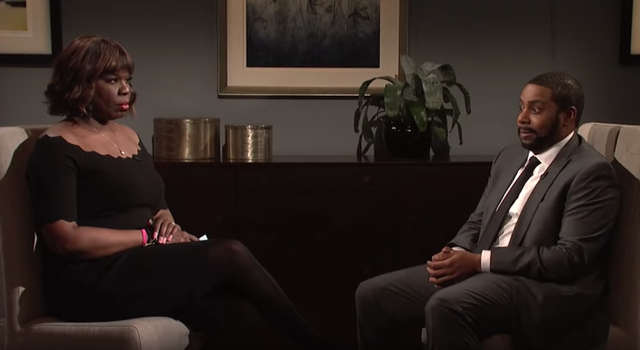 "Were you happy to hear that Fox News' Jesse Watters gave you props for this interview after that Jussie Smollett interview you did?"
Jussie Smollett ("Empire") describes an attack Chicago police are investigating as a possible hate crime in an interview with Robin Roberts on ABC's "Good Morning America".
"When I see Robert getting really upset and he stands out of his seat, my initial reaction is, oh god please don't leave, please don't leave, please don't leave", says King.
Kelly, a South Side native with hits including "I Believe I Can Fly", was jailed Wednesday for failing to pay more than $160,000 in child support to his ex-wife, Andrea, with whom he shares three kids.
King said she wanted to put him at ease. And could you let the rest of your colleagues know that all black people do not look alike.
Fox News is the epitome of trash news and they never fail to remind us of their foolishness. And what does King have to say about it?
This exchange, and others, await viewers in Friday's one-hour primetime special The Gayle King Interview with R. Kelly.
"In the green room, Elton John called me!"
"I can't do circus acts", said Gardner of the interview.
On Jimmy Kimmel Live, Kimmel couldn't get enough of the R. Kelly bombshells.
"I will never be the man that this did not happen to", he told Roberts.
Another accuser, Kitti Jones, told CBS that she wasn't surprised that Kelly claimed the women were lying about the decades of sexual abuse allegations.
"I was not scared".
"I hope to meet her one day, because I thought that that was very nice of her to do", she added. "I was more anxious that he was going to get up and leave". "We've seen him storm out of interviews before so I thought he was gonna do that, I was thinking, I'm not done with my questions, what can I do to save this interview?". "I know how much work went into being balanced about what to ask, to challenge him on certain things".
"Yes", King said with a laugh.
Kelly has denied all of the accusations, saying they are lies.
"I have been assassinated".
On the theory there is no detail too small in the R. Kelly saga, and with Gayle King's 80-minute interview A-matter having already aired across the week on CBS This Morning and CBS Evening News, the network has issued footage in which King scolds the singer for visiting McDonalds after his February 25 release from jail on sex abuse charges. "I'm sorry, but that's just the way I feel". You all quit playing! "I'm fighting for my f*cking life!" Y'all killing me with this s-!
The Late Show with Stephen Colbert airs weeknights at 11:35 p.m. ET on CBS.