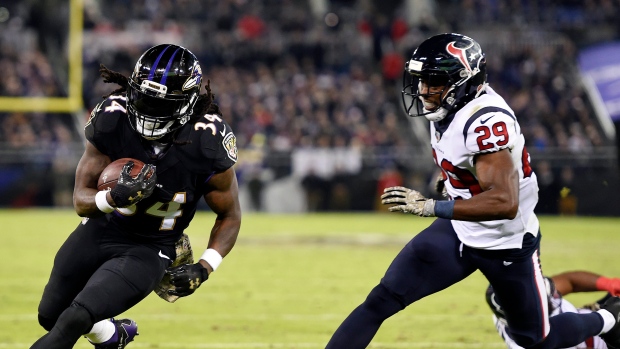 Alex Collins #34 of the Baltimore Ravens high fives fans after beating the Tennessee Titans at Nissan Stadium on October 14, 2018 in Nashville, Tennessee.
Ravens running back Alex Collins was arrested Friday morning after crashing his auto into a tree near the team's practice facility in Owings Mills, Md. Officers found Collins asleep in the driver sleep and detected an odor of marijuana inside the vehicle, according to police.
Collins, 24, was arrested after police responded shortly before 7 a.m. Friday to a report that a vehicle had crashed into a tree in an area west of Interstate 795 in the suburb northwest of Baltimore, a police spokeswoman told The Sun.
The crash was just about a mile away from the Ravens facility.
Collins has not yet been formally charged.
Collins was selected in the fifth round by the Seattle Seahawks in the 2016 NFL Draft, but was cut prior to the 2017 season.
Collins is now a restricted free agent. Collins rushed 114 times for 411 yards and seven touchdowns, posting a paltry 3.6 yard-per-carry average over 10 games. He locked up the starting role for the Ravens before Gus Edwards emerged when Lamar Jackson took over the offense.
Collins was with the Arkansas Razorbacks from 2013-2015. In 15 games in 2017, Collins had 973 rushing yards, 23 catches for 187 yards and posted six touchdowns.
The team later announced it waived the third-year player.