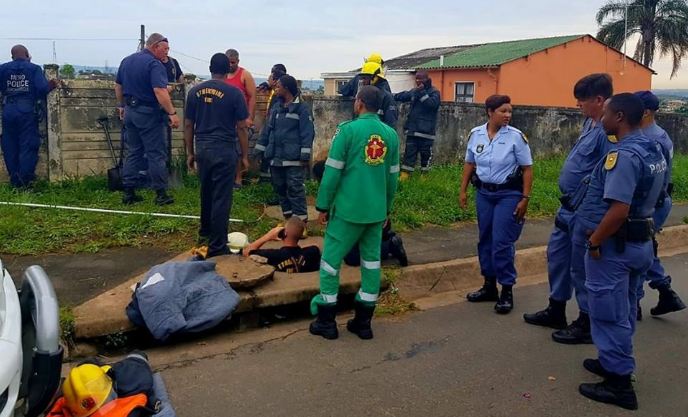 Footage shows rescuers lifting the tiny child to safety after digging down to a pipe and cutting through it near a home at Newlands East, north of Durban, on the country's east coast.
The newborn baby who was trapped in a stormwater drain in Newlands East, Durban has been rescued and is a stable condition, reports Berea Mail.
The little girl had been dumped in Newlands East, Durban.
The team confirmed that a baby girl was stuck and was being washed further down the pipe. Rescuers believe the girl, who is thought to be between one and three days old, was washed 10 to 15 feet down the drain after being "dumped", according to the ABC.
Eyewitnesses at the scene described the dramatic moments they discovered the infant trapped inside the drainage system. "To see that baby, I had tears in my face", one man said.
After being located and extricated, the baby was flown to Inkosi Albert Luthuli Hospital for urgent care.
"She has been awake, responsive and crying". Her glucose, and sugar levels have been good.
The operation took four hours. "It is mercy from above that she is alive".
The baby was stabalised on scene before she was transported to hospital.
He added that the child will now be transferred to a different hospital where social services will look after her future welfare.