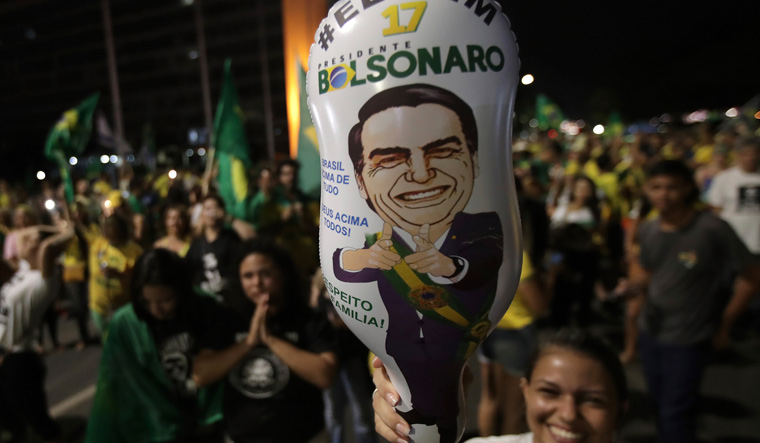 Bolsonaro, who took office on Tuesday, is a fan of U.S. President Donald Trump.
Retired Army General Augusto Heleno, Bolsonaro's top adviser on security, did not elaborate.
In an apparent response to fears of the farming businesses in the agriculturally-rich country that an embassy move may threaten their $1 billion in meat exports to Arab markets, the newly-elected leader rowed back his pledge within days, insisting: "it is not yet decided".
Brazilian President Jair Bolsonaro expressed doubts on Friday over the merger between Brazilian aviation company Embraer and US company Boeing, which has been in talks since previous year, Xinhua reports.
Azevedo met with Bolsonaro the day after Brazil's new Foreign Minister Ernesto Araujo sharply rebuked globalism, saying that under his watch the country would fight for change at multilateral institutions like the WTO.
He added that "the only weighty voice speaking out against me is Iran", the Shiite Islamic republic that is an enemy to Israel and hostile to Arab allies of the U.S. such as Saudi Arabia.
The comment confirmed an earlier statement by Netanyahu, who said on Sunday that Bolsonaro said it was a matter of "when, not if" the Brazilian embassy would move to Jerusalem.
Asked about the possibility of setting up a United States military base in Brazil, Bolsonaro said "who knows if it would be necessary to discuss this".
A provisional decree, which could become permanent if ratified in Congress within 120 days, allows Cruz to practically silence NGOs struggling to protect the environment or global green associations such as Greenpeace, for which Bolsonaro said during the campaign that they are "pushing their nose in Brazil". On Thursday Bolsonaros Minister of state for Onyx Lorenzoni announced that the government is going to clean the "house".
The decree defangs Brazil's Ministry of Indigenous Affairs, which previously determined federal protected status for Amazon lands and others.
Bolsonaro of the Social Liberal Party won the election. "We don't see any signs there will be any other government infrastructure to handle LGBT issues".
The president claimed that privatizing airports and ports would raise initial investments of 7 billion reais ($1.85 bn).
Investors applauded the first bold steps, sending the stock market to a record high and strengthening the Brazilian real against the dollar. He did not give further details.