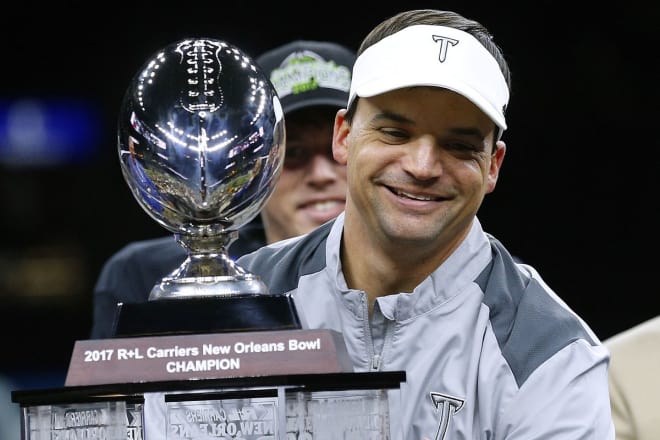 West Virginia University Athletics Director Shane Lyons issued the following statement this morning on Twitter: "Mountaineer Nation - I am excited to announce Coach Neal Brown as our 35th @WVUfootball coach".
West Virginia moved quickly to find its next coach after Dana Holgorsen's abrupt departure, naming Neal Brown coach on Saturday.
Brown took over for longtime Troy head coach Larry Blakeney in 2014 after Blakeney led the team to a 3-9 record the year before. Sports, a six-year deal for him to replace Holgorsen is being finalized.
Brown - who attended the same high school as Smith - may be a new face in Morgantown, but this actually the second time Smith has received an offer from West Virginia's new coach. After going 4-8 in his first season, the Trojans are 31-8 the past three seasons combined and won three bowl games. From 2006-10, Troy won at least a share of five consecutive Sun Belt titles.
Brown comes to West Virginia after four seasons at Troy in the Sun Belt Conference. They were built more on physicality on both sides of the ball, and Brown's Troy teams ran the ball more often than they passed. The Trojans played eventual national champion Clemson close in 2016 (losing 30-24), then defeated LSU 24-21 in 2017 and at Nebraska 24-19 in 2018.
One of Brown's major accomplishments at Troy was his success against Power 5 teams.