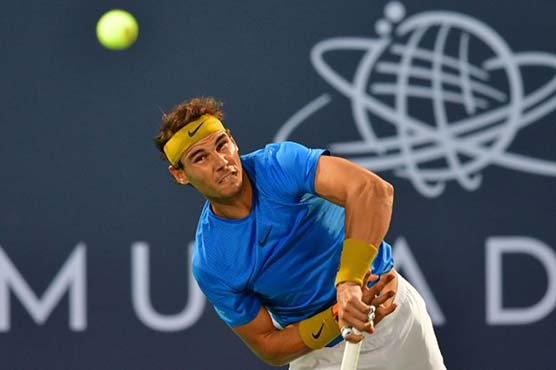 Novak Djokovic won 2-0.
The world No 2 had just confirmed that he had competed in his last match of 2018 after being beaten in his semi-final at the tournament at the International Tennis Centre at Zayed Sports City in Abu Dhabi by Kevin Anderson.
And it turned out to be a tensed affair, with Djokovic rallying from one set down to prevail 4-6 7-5 7-5 over the reigning Wimbledon finalist to emerge victorious after battling out for nearly two hours and 30 minutes.
The 17-time Grand Slam champion made the Australian final after his only previous Brisbane campaign, losing a gripping five-set encounter to Roger Federer.
A similar sight was witnessed during a women's match between sisters Serena and Venus Williams.
Earlier in the day, Russia's Karen Khachanov won the third-place match 6-3, 4-6, 10-3 over Austrian Dominik Thiem, who stepped in for Nadal after the Spaniard chose to skip the contest to avoid aggravating an injury. It's different in the past couple of years, but I like challenge in life, because from the challenges we grow and we learn.
"I won a grand slam and reached two grand slam finals. I am more or less satisfied with how the body held", he said. And this is what you want to see in sport - young players showing their courage and stepping up.
It was with an eye to avoiding the problems of this year that led to Nadal withdrawing from the rest of the MWTC after his defeat to Anderson, meaning his scheduled play-off for third place with Karen Khachanov on Saturday was cancelled. "The match (in Abu Dhabi) is a step forward for me, that's the main thing".
I had injuries and surgeries, and to come back and win championships is truly remarkable.' On the Australian Open introducing the fifth tie-break rule, Djokovic concluded: 'It is good.
"It was a little bit of risk that we don't make it into the beginning of the season, but here we are, practising more or less hard and we are excited to start the new season", he said.
"I think it was the best match point I've ever played!"
Nadal is now scheduled to kick off 2019 in Brisbane next week in preparation for the first Major of the year.