Hundreds of police are understood to have been involved in the operation in Belgium, Italy, Germany and the Netherlands.
German federal police said in a statement on December 5 that there had been multiple arrests in the early morning raids on premises linked to the 'Ndrangheta, a southern Italy-based organized crime group. Operation Pollino is being coordinated by the EU's Judicial Cooperation Unit, Eurojust.
Eurojust said Italian authorities arrested 41 suspects mainly in the southern regions of Catanzaro and Calabria, the base of the 'Ndrangheta organised crime group.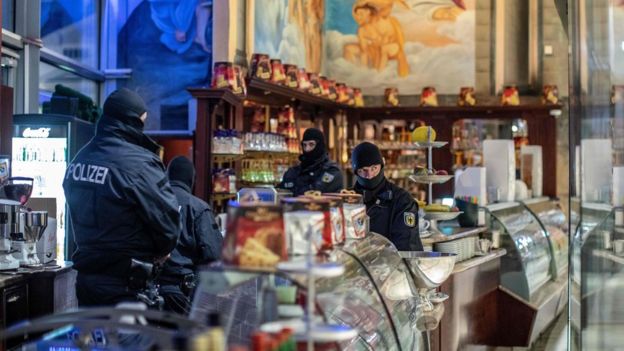 "This is just a first step", said Cafiero De Raho, and added that "currently in Italy, we have 25 billion euros in assets that have been seized from 'Ndrangheta and other criminal organizations, and probably there will be another 25 billion seized".
But Italy's top Mafia prosecutor, Federico Cafiero De Raho, also sounded a note of caution, saying the raids only scratched the surface of the powerful 'ndrangheta, whose tentacles and illicit activities, including huge cocaine trafficking operations, were spread all over the world.
Millions of euro in laundered money was seized at the businesses and homes raided across the four countries, officials said, and several "high-ranking" members of 'Ndrangheta are believed to have been among those arrested.
It has surpassed Sicily's Cosa Nostra and the Naples-based Camorra in influence thanks to control of the cocaine trade and is the sole mafia organisation to operate on all continents, according to anti-mafia prosecutors.
Deputy Prime Minister Luigi di Maio hailed the operation as "one of the biggest blows inflicted on the mafia" by the Italian authorities.
At least 90 people were arrested, and more than three tonnes of cocaine and 140kg of ecstasy were seized.
Prosecutor Fred Westerbeke said they had also probed ice cream parlours, adding that together with restaurants "the suspicion is that the mafia organisation is laundering money through these establishments and they are used as a cover for their criminal organisations".
Germany's Der Spiegel reported that the German operation was mostly concentrated in North Rhine-Westphalia - a stronghold for the mafia - and involved 240 police and another 240 support staff from the federal criminal agency.
Wednesday's raids come a day after the new suspected head of the Cosa Nostra and 45 other alleged gangsters were arrested.
Jeweller Mineo, 80, was detained along with at least 45 others just before he was due to be appointed official heir to notorious mafia boss Toto Riina who died in prison previous year.