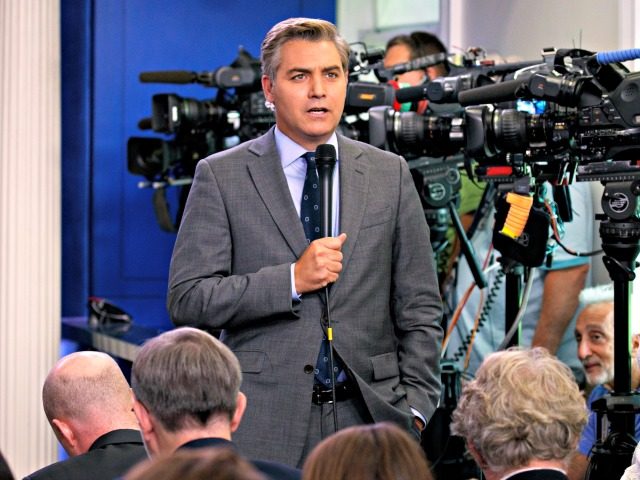 Trump told him "that's enough", called the investigation a "hoax", and then told Acosta he was a "rude, bad person" who treats people "horribly".
The White House suspended Acosta's press credentials after the press conference, limiting his access to the White House grounds. "I think I'm just covering a story, honestly", Acosta said in a 2017 interview with The Washington Post about his reporting style.
Acosta continued to ask questions, including whether Trump was "concerned" about potential indictments coming from the Mueller probe.
Trump then insulted Acosta's professionalism and his character.
The President blasted: "I'm not concerned about anything with the Russian Federation investigation because it's a hoax".
But that's - that's a really - I think something that people are looking at and are very concerned that there are white nationalists walking around in the White House, as the president says that just asking about them is racist. The way you treat other people is terrible.
"Yes, the White House press office is sharing a manipulated video that makes it appear that Acosta was menacing the intern when he was not and did not".
"We stand by our decision to revoke this individual's hard pass", Sanders captioned a clip from the press conference. The Reporters Committee for Freedom of the Press said Sanders' "false description of the events leading up to it is insulting not only to the nation's journalists, but to its people". She said that "on the campaign trail, you called yourself a nationalist".
"It's unfortunate the White House is saying this", he said.
On Wednesday, President Trump was in a foul mood and made a decision to hold an impromptu news conference that lasted almost 90 minutes. "Jim Acosta has certainly does that and this is a moments that not just all reporters but all Americans should be really concerned about and stand together against". You and I disagree on this, ' Trump said.
Hours after the verbal sparring, Acosta took to Twitter to reveal that his White House access had been revoked. "That's such a racist question". "What do you say to that?" You and I have a difference of opinion.
Alcindor moved on to a different topic.
Trump also told April Ryan of the Urban National Radio Network to "sit down" and wait her turn. "As long as @realdonaldtrump is our President, I'm not taking a day off".
"There's no evidence that the video was deliberately sped up - but the change in format, from a high-quality video to a low-quality GIF, turns the question of whether it was "doctored" into a semantic debate", BuzzFeed's Charlie Warzel reports.