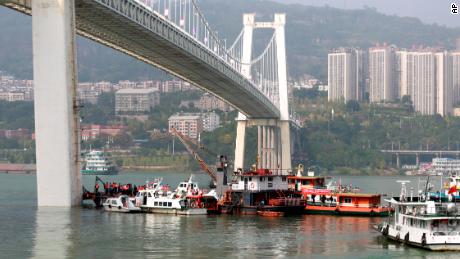 Raw video: Police say an argument between the driver and a passenger was the cause of bus plunging off a bridge in southwestern China. Approximately 15 people were on board, cops said.
A passenger is seen hitting the driver, who hits back, then loses control of the bus, which begins shaking violently, apparently upon impact with something.
The driver of the No 22 bus, a 42-year-old man, quarrelled with a female passenger after she blamed him for missing her stop, according to Chongqing police's news feed on Sina Weibo, China's popular social media platform.
Police said the passenger was angry the driver had missed her stop.
Before Friday's statement from the police, footage showed the bus driving on the wrong side of the road before crashing into the water.
Surveillance footage showed the bus veered across the lanes, hit a vehicle, demolished a section of Yangtze River No 2 bridge's barrier and plunged into the river, where the water is about 70 metres [230 feet] deep.
Rescue teams said that at least 13 people died, while two remaining passengers are still unaccounted for following the accident.
The bus was retrieved from the river on Wednesday, and investigators were able to obtain the footage from the vehicle's surveillance system. "The driver's right hand came off the steering wheel during the altercation, which led to the steering wheel turning sharply to the left". However, Liu did not get off and later asked the driver to stop the bus when she realized she missed her destination.
The statement concluded that both the passenger and the driver had broken laws for seriously endangering public safety.