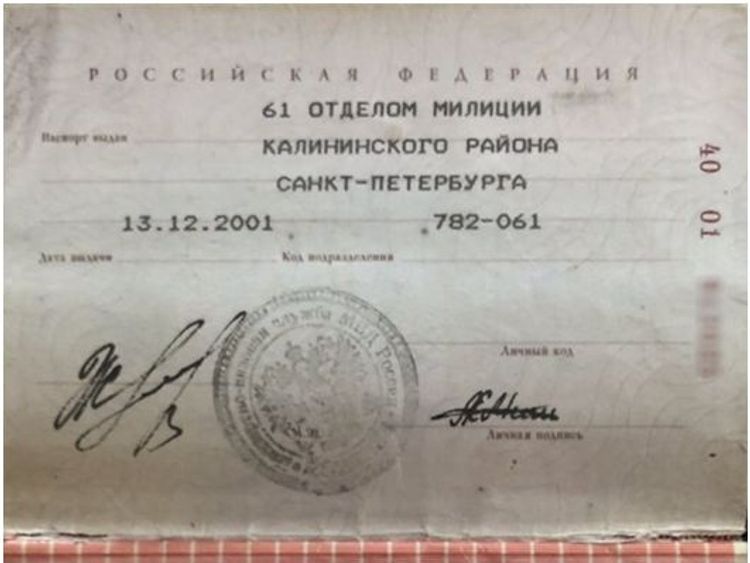 They said they were tourists who had flown to London for fun and visited Salisbury to see its cathedral. Bellingcat has previously identified GRU colonel Anatoly Chepiga as the other suspect and said that he too had received Russia's highest award in the same year in a secret ceremony in the Kremlin.
Bellingcat said Petrov's full name is Dr. Alexander Yevgenyevich Mishkin.
Bellingcat said the identification process "included multiple open sources, testimony from people familiar with the person, as well as copies of personally identifying documents, including a scanned copy of his passport".
Three images provided by Bellingcat of Alexander Mishkin.
British police said they would not comment on speculation about the real identities of the two men facing charges, in response to a query about the latest report.
In an interview with Margarita Simonyan, editor-in-chief of Russian TV outlet RT, the men confirmed they were the people identified by the United Kingdom investigators but claimed they were coincidentally in Salisbury at the time as tourists.
"The Russian side will be ready to discuss both this information and other outstanding issues with the British authorities through official channels if we receive a respective request from London", the Embassy said on its website.
According to Bellingcat, Mishkin was born in July 1979 in the village of Loyga in northern Russian Federation.
He graduated in 2003 or 2004 from the Russian military's medical academy in St Petersburg, where he specialised in "deep underwater physiology". But Mishkin's cover identity had retained key details from his real identity, including his date of birth, as well as his first name and patronymic - a middle name based on a person's father's name, a practice that is common among Russians.
The group also said that until 2014, Mishkin's registered home address in Moscow was the same as the GRU's headquarters.
While his current military rank is unknown, he was either a colonel or lieutenant colonel at the time of the Skripals' poisoning, Bellingcat reported.
Grozev said reporters from the Russian website The Insider had managed to reach Mishkin's home village of Loyga, where they spoke to seven people who confirmed his identity.
The UK in early September accused two Russian men, Alexander Petrov and Ruslan Boshirov, of attempting to assassinate ex-spy Sergei Skripal with a military-grade nerve agent in Salisbury, England in March 2018.
Skripal and his daughter Yulia were poisoned by a Soviet-designed chemical agent called Novichok in the English town of Salisbury in March.
While the Skripals survived the attack, a woman died on June 30 after her partner picked up a discarded bottle of perfume containing the nerve agent that United Kingdom inspectors think was used to smuggle in the Novichok.
The suspects were identified as GRU agents and Theresa May said their actions were not a "rogue operation" and would have been approved at a senior level in Moscow.
Britain accuses the Russian government of trying to kill Skripal in retribution for his ongoing work with European intelligence agencies.
Last week it was revealed the GRU was also behind a string of computer hacking programmes to undermine democracies, targeting institutions from sports anti-doping bodies to the chemical weapons watchdog.