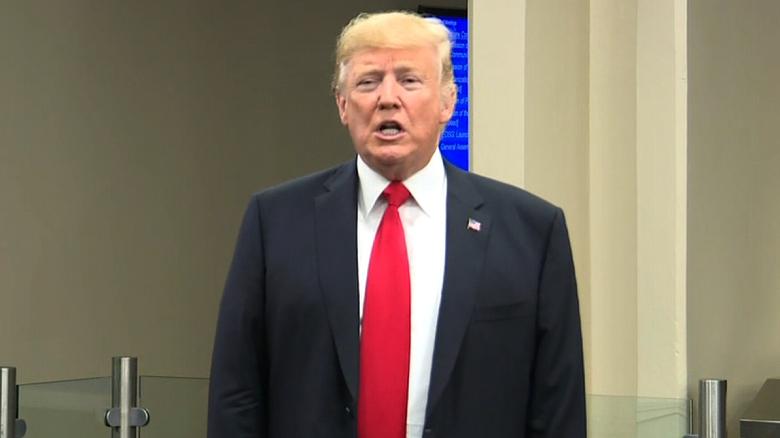 President Donald Trump held a press conference at the United Nations in NY on the tail end of his bilateral meetings with U.N. members and his speech before the United Nations General Assembly.
More world leaders step up to the podium at the U.N. General Assembly on Wednesday but the lion's share of attention will be down the hall where U.S. President Donald Trump will be chairing the Security Council. "We will no longer tolerate such abuse", Trump added.
Washington has told countries they must halt all imports of Iranian oil from November 4 or face United States financial measures.
Bolton, who said Iranian officials call America "the Great Satan", also informed the European Union that "enforcement of our sanctions is aggressive and unwavering".
Tensions with North Korea have eased since last year's General Assembly, when Trump called North Korean leader Kim Jong Un "rocket man" and threatened to "totally destroy" the country if it threatened the USA or its allies.
Donald Trump used his address at the UN General Assembly on Tuesday to launch a searing attack on Iran, saying its leadership sows "chaos, death and destruction".
"Didn't expect that reaction, but that's OK", replied Trump to the laughter, which prompted several leaders in the room to break out into applause.
He said that Mr. Trump has "well-deserved strong words for the Iranian regime" that he will also raise during a meeting of the UN Security Council on Wednesday.
Trump also said that "OPEC nations, are, as usual, ripping off the rest of the world" and the UN human rights council, which Australia was elected to a year ago, "had become a grave embarrassment to this institution, shielding egregious human rights abusers while bashing America and its many friends". Trump's unilateral approach to foreign affairs has marked a stark contrast from his predecessor.
Iranian President Hassan Rouhani, who also addressed the United Nations, launched a scathing attack on Trump and his administration for abandoning global norms and imposing sanctions that amount to "economic terrorism".
"Not this year, nor last year", he told the CNN. "America achieved nothing at the General Assembly".
He referenced a list of United Nations bodies, from the International Criminal Court to the Human Rights Council, that his administration is working to undermine.
"This is one of the most counterproductive measures imaginable for regional and global peace and security", Pompeo said in a speech that was interrupted several times by anti-war protesters.
With cable news chyrons flashing breathless updates about both Beltway dramas, news of Trump's foreign policy moves from the United Nations, led by a new trade deal with South Korea, struggled to break through.