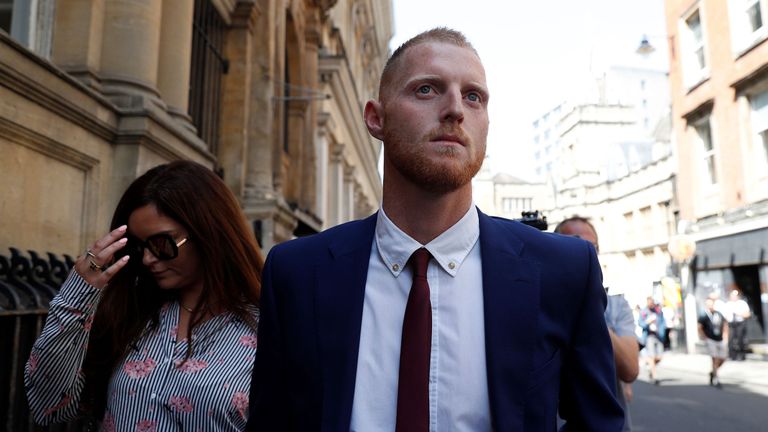 New CCTV footage has been released by police showing England cricketer Ben Stokes allegedly insulting, mocking and being aggressive towards two gay men just before the brawl outside a Bristol nightclub last September.
Stokes is standing trial at Bristol Crown Court accused of knocking out two other men outside a nightclub in the southwest English city in September previous year.
"The individual seemed to be the main aggressor or was progressing forward trying to get to another individual", he told the court.
According to the prosecution, Stokes informed police that he had overheard "nasty homophobic language" before intervening and claimed that he thought they were going to hit him with a bottle, forcing him to act in self-defence.
In a second statement to police, Stokes denied mimicking Kai Barry and William O'Connor, whom he referred to as "the gay couple", in a derogatory way.
"The ginger one offered me 60 and asked me if that would get them in, " he told the jury.
"I made a decision to intervene and asked Ryan Ali and Ryan Hale to stop abusing Kai and William".
Stokes told officers: "The force I used in defending us was reasonable and entirely justified when the circumstances are viewed objectively". I didn't feel I had an option to leave in the heat of the situation.
"I did not know Ryan Hale or Ryan Ali and I was forced to make a decision as to how far they would be prepared to go and what they might do if they got the upper hand".
"As I was on my own, when I separated two of them more people carried on behind me".
Mr Stokes, of Castle Eden, Durham, was arrested in the early hours along with Mr Ali, of Bristol, and Mr Hale, of Westbury-on-Trym, Bristol.
The court heard Mr Spure identified Stokes to police officers, who then arrested the cricketer.
Stokes, who was smoking on the evening, allegedly flicked his cigarette butt at O'Connor's head. And Stokes replied: "Because he was abusing my two friends for being gay".
Ryan Hale (L) arrives at Bristol Crown Court on August 6, 2018 in Bristol, England. He was subsequently taken to hospital by ambulance and diagnosed with a fractured eye socket.
Hale sustained a 1.5in laceration to his forehead - consistent with blunt trauma. In it, Ali denied saying anything offensive to either Barry or O'Connor, but accepted that "one of the guys" became "quite irate" after "banter" between the men.