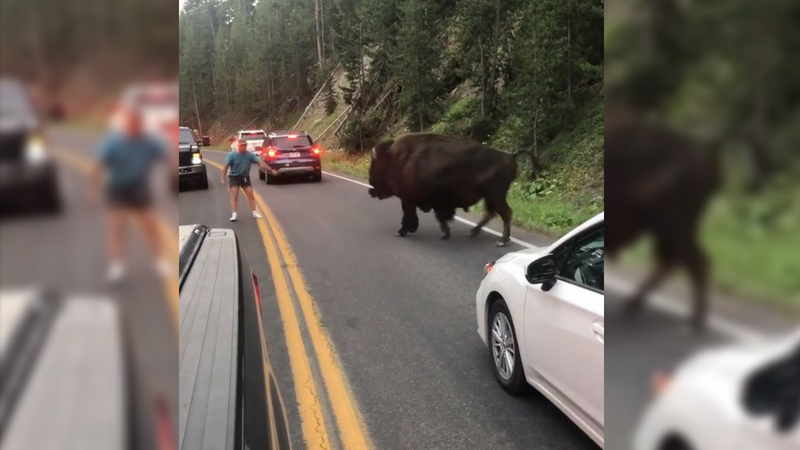 An Oregon man who was caught on video taunting a bison in Yellowstone National Park was arrested Thursday.
Raymond Reinke, 55, of Pendleton, Oregon, was taken into custody Thursday after what appears to be a string of disturbances in national parks.
Reinke had spent the night of July 28 in the Teton County Jail after being arrested for drunk and disorderly conduct, according to a press release.
On the night of Thursday, Aug. 2, that request was granted and a warrant was issued for his arrest, according to the release. Rangers stopped his auto for a traffic violation on July 31.
"Reinke appeared to be intoxicated and argumentative", a Yellowstone news release stated. Reinke was a passenger in the vehicle and was cited for not wearing a seat belt.
Reinke had told Yellowstone rangers his next stop was Glacier National Park, so rangers alerted rangers there to be looking for his vehicle.
Thank you for signing up for the STL Morning Rush Newsletter. Rangers believe after that incident, he encountered the bison.
Yellowstone rangers reported receiving an onslaught of wildlife harassment reports from visitors regarding the incident.
"This isn't an everyday occurrence that this teamwork happens, but it does when we have opportunities like this", said Lauren Alley, a spokesperson for Glacier National Park. Our eyes can't be everywhere. "We've got some great rangers working for the National Park Service, and that is clearly evident in how quickly this case unfolded".
'The individual's behavior in this video is reckless, dangerous, and illegal, ' Yellowstone officials said in a statement. "When law enforcement saw the video it certainly elevated the situation".
"On Thursday, August 2, Yellowstone rangers connected Reinke's extensive history, and seeing the egregious nature of the wildlife violation, the Assistant U.S. Attorney requested his bond be revoked", officials said. At that time rangers responded to a disturbance at a hotel dining room where two people were arguing. Reinke was one of the people involved.
Glacier rangers transported Reinke to Helena late last night, where they met Yellowstone rangers.
Reinke was later cited after another Yellowstone visitor took video of him walking up to a bison in a roadway congested with stopped cars and waving his arms. He was released on bond the following day and traveled to Yellowstone National Park. Reinke is now facing a number of charges, including harassing wildlife, which is a federal offense.