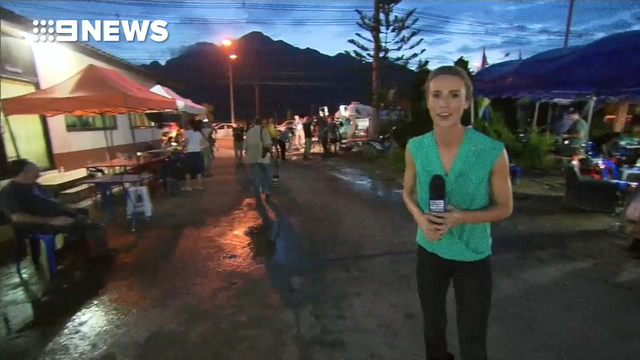 But he had denied they were knocked out for an operation the chief of the rescue had dubbed "mission impossible".
This handout video grab taken from footage released by The Thai government public relations department (PRD) and Government spokesman bureau on July 11, 2018 shows members of the "Wild Boars" football team being treated at a hospital in Chiang Rai. "My job was to transfer them along". An American military diver added: "Those kids were proper knocked out".
Colleagues of the Australian doctor who played a central role in the Thailand cave rescue have praised his actions in helping bring the 12 boys and their coach to safety.
But Mr Prayut denied this, saying: "All of the children were conscious during the operation".
Officials also said they are taking less medication, and can eat anything they want - good news for the boys who were looking forward to fried rice with basil. They were found by a pair of British divers almost 10 days later, huddled on a small, dry shelf just above the water, smiling with relief but visibly skinny.
But according to Los Angeles-based Ivanhoe Pictures, they have been officially picked by the Thai government and navy to develop the film.
It shows divers preparing to plunge into murky brown waters likened to "cold coffee". He lauded the cooperation between Thai and global rescuers.
Their teacher led them in a chant thanking "everyone who came to help make the mission succeed", in a small reflection of a wider gratitude toward the foreign experts who helped extract the stricken group.
"Wild Boars, keep fighting!" they chanted. They are then lowered down steep drops and pulled through terrifyingly narrow choke points.
Each of the boys, ages 11 to 16 and with no diving experience, was guided out by divers though rocky, muddy and water passages that in places were just a crawl space.
Former Navy seal Chaiyananta Peeranarong told AFP news agency: "Some of them were asleep, and some of them were wiggling their fingers, kind of groggy - but they were breathing".
He added doctors were stationed along the corridors of the Tham Luang cave to check constantly on the boys' condition and pulse.
Parents of the first eight boys freed have been able to visit them but had to wear protective suits and stand 2 meters (7 feet) away as a precaution.
Rescuers also had to step over miles of tubes that had been laid down to pump out water.
"The boys got special full-face masks with oxygen circulating all the time".
All evacuees were blindfolded as they were moved from Tham Luang to the hospital, to protect eyes that had not seen sunlight for two weeks.
Staff look through glass at the boys rescued from the Thai cave at a hospital in Chiang Rai, Thailand.
Others, including their 25-year-old soccer coach, who had been trapped in the cave along with the boys, sat in bed, their faces obscured by green surgical masks.
They were all brought safely following a mission fraught with obstacles that ended late on Tuesday.
The boys were held close to the divers and remained motionless for parts of the journey where they had to dive.