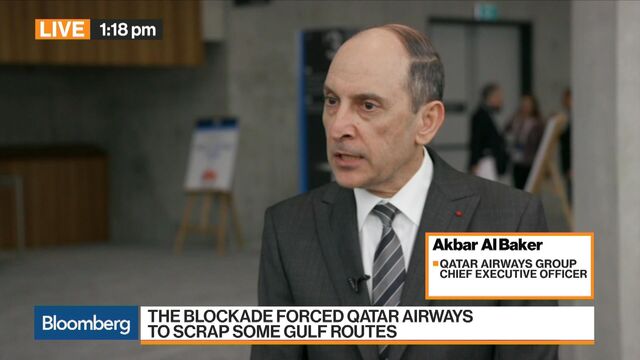 That's when Al Baker said that "of course" it "has to be led by a man".
The comment came minutes after Al-Baker - who has a reputation for hitting out at rivals and suppliers over poor performance - had joked that one of his roles as the new chairman of IATA was to be less controversial.
Al Baker clarified his position in an interview with Bloomberg Television's Haidi Lun after his press conference.
Of his own job running one of the world's biggest carriers, Al Baker had this to say: "Of course it has to be led by a man, because it is a very challenging position". There were loud groans of disapproval from many reporters in the room.
When asked about gender inequality at airlines in the Middle East, he retorted: "not in Qatar Airways".
For instance, during an earlier spat between Qatar Airways and its chief competitor, Delta Air Lines, Al Baker's vowed to "hang on the wall" Delta's CEO Richard Anderson. The Qatar Airways chief a year ago apologized after describing American flight attendants as "grandmothers", as opposed to the average age of 26 for cabin crews working at his carrier.
His response comes at a time when the global aviation industry is under pressure to be more gender balanced, with equality a hot topic at the predominantly male-attended IATA AGM being held in Sydney June 3-5.
"I was only referring to one individual", he told Bloomberg.
Qatar Airways Chief Executive Officer Akbar al-Baker poses with cabin crew in an Airbus A350-1000 at the Eurasia Airshow in the Mediterranean resort city of Antalya, Turkey April 25, 2018.
Not only is diversity a competitive advantage, Joyce said, "It's the right business thing to do and it's the right moral thing to do".
Qatar Airways, Iata and Heathrow were approached for comment.
More than a third of Qatar Airways staff are female, he said, including pilots and senior vice-presidents.
Leading carriers in North America and Europe had the highest representation of women in senior roles at 16 percent and 14 percent respectively, IATA said.
Asked whether he'd welcome a female executive as CEO, Al Baker said: "It will be my pleasure to have a female CEO candidate I could then develop to become CEO after me".