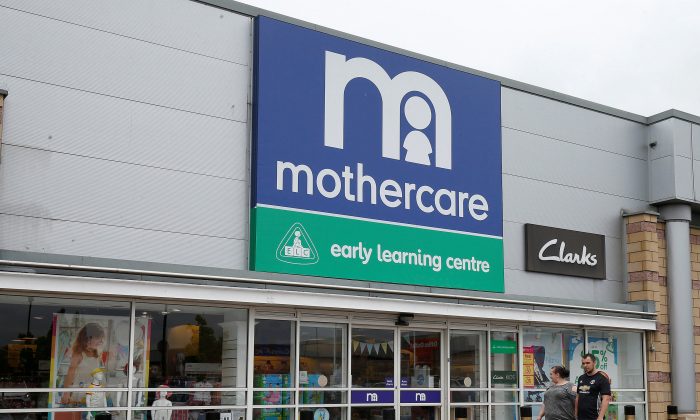 The babycare chain has revealed it will shut 50 across the United Kingdom, as part of a rescue plan.
Mothercare has announced as part of a Company Voluntary Agreement (CVA) it will shut 50 of its 137 stores with around 800 jobs axed.
Mark Newton-Jones will return to the retailer, less than two months after he was forced out with just a few minutes' notice, Sky News reported.
Commenting on the plan Jonathan Ward, Managing Director of Mothercare Ireland said in a statement: "Mothercare UK have this morning released their refinancing and UK store restructuring plan".
Already this year Toys R Us UK, electricals group Maplin and drinks wholesaler Conviviality have moved into administration, while fashion retailer New Look and floor coverings retailer Carpetright are closing stores.
In a statement, Mothercare said: "Recent financial performance, impacted in particular by a large number of legacy loss making stores within the United Kingdom estate, has resulted in a perilous financial condition for the group".
'These comprehensive measures provide a renewed and stable financial structure for the business and will drive a step change in Mothercare's transformation.
The sub-£50mln company now has 137 stores up-and-down the United Kingdom but wants to have a portfolio of just 73 by 2022.
Mothercare, which has been trading since 1961, said it was facing a "perilous financial condition" and had identified a large number of loss-making stores.
The CVA route, which allows firms to avoid insolvency or administration, has already been taken this year by fellow United Kingdom retail strugglers - fashion chain New Look, floor coverings group Carpetright (CPRC.L) and department store group House of Fraser.
Creditor meetings to vote on the CVA proposals are expected to be held on June 1, with the process expected to complete in July.
Mr Newton-Jones will oversee the firm's £28 million survival plan with Mothercare also revising committed debt facilities of £67.5million, £8m of new shareholder loans and a new debtor backed facility of up to £10m from a trade partner.
The closures could save the company £10 million a year, as well as rent reductions being implemented in a further 71 stores.