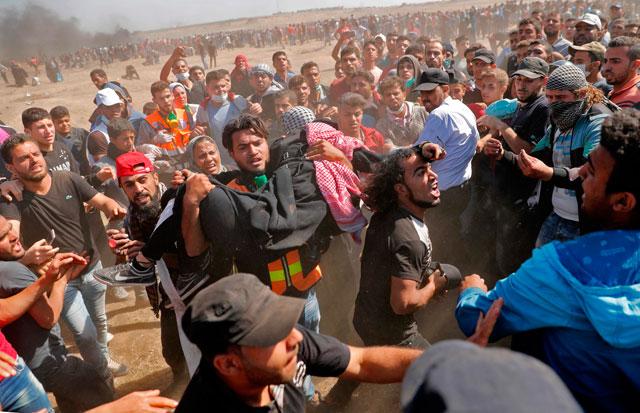 Bloodshed on this scale results directly from these open-fire orders that green-light the firing on demonstrators irrespective of the threat they pose, along with Israel's decades-long failure to hold accountable soldiers who violate their already lax open-fire orders. The Palestinians say they have lost faith in the Trump administration to act as a fair mediator and have boycotted the process since President Donald Trump's Jerusalem announcement in December.
"They did not have mercy on a girl, they threw gas bombs at her, they killed her with tear gas".
Several Muslim-owned businesses in the St. Louis area also closed for 70 minutes around lunchtime to symbolize the number of years of Israeli occupation. "Our homes were destroyed", Afghani said.
"There's been continuous violation of global law and human rights of people who have been dispossessed and driven out of their homeland in 1948 - hundreds of thousands of them", Zayid said.
Kuwait intends to circulate a draft U.N. resolution to protect Palestinian civilians, its ambassador to the United Nations said yesterday, following the deadliest day of violence in the Gaza Strip since 2014.
"Our government and other governments, United States and European governments and so on, should apply pressure to implement global law", Zayid said.
Djilali said it was ironic that Jews would persecute Palestinians after being persecuted themselves by the Nazis, and that they were forgetting the teachings of peace in the Jewish Torah.
Erdogan regards himself as a champion of the Palestinian cause and past year hosted an OIC summit in Istanbul to denounce US President Donald Trump´s decision to recognise Jerusalem as Israel´s capital. "There is no such thing".
Foreign ministers will meet on Thursday, but an earlier meeting of representatives is expected tomorrow.
KAREN PIERCE: It is a familiar, depressingly familiar pattern that we have seen over recent weeks.
Leila was believed to be the youngest victim of Monday's bloodbath and one of eight children under 16 who were reportedly among 58 Palestinians killed in demonstrations. "All parties to the conflict have a responsibility to ensure civilians are protected", she wrote.
He also hit out at Israel's prime minister on Twitter in response to Mr Netanyahu lashing out at his criticism of Israel.
Now, we are down a Turkish ambassador, albeit temporarily, as that nation has pulled its envoy in response to the opening of the American embassy to Israel in Jerusalem.
Israel lays the blame squarely with Hamas, accusing Gaza's Islamist rulers of war crimes.
As for how Israeli forces dealt with marches on the 70th Nakba day, Qawasmi said Israel fears a new Palestinian intifada, so that it targets all Palestinians, creating massacres without the global community moving a muscle against the Israeli violations.