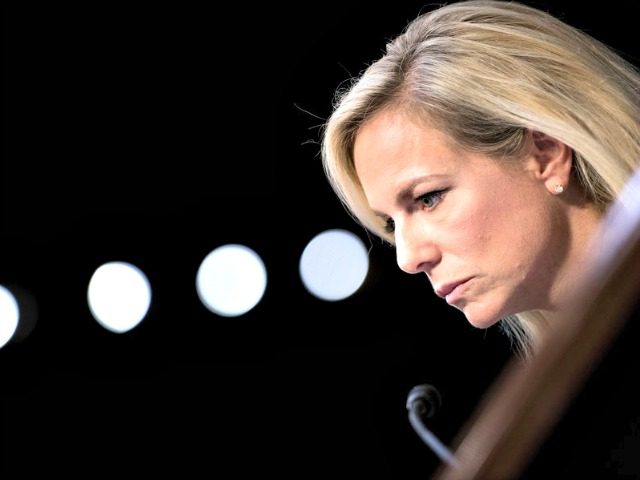 Trump's hard line against illegal immigration is a centerpiece of his presidency as he pursues an "America First" agenda that includes a proposed wall along the U.S. -Mexico border, saying it was needed to stem the flow of immigrants and drug trafficking.
Sources told the Times Nielsen even drafted a letter of resignation but hasn't submitted it.
Mr. Trump's anger toward Ms. Nielsen at the cabinet meeting was part of a lengthy tirade in which the president railed at his entire cabinet about what he said was their lack of progress toward sealing the country's borders against illegal immigrants, according to one person who was present at the meeting.
Kirstjen Nielsen, secretary of the Department of Homeland Security, "told colleagues she was close to resigning" from that post after being yelled at by President Donald Trump, the New York Times reported Thursday.
Secretary of Homeland Security Kirstjen Nielsen released a statement about the New York Times report that she was contemplating resigning her position after being "berated" by President Trump.
Nielsen then issued a statement of her own, which seemed to acknowledge the blow-up but blamed Congressional inaction further making it unclear what exactly went on.
"Border security is the most basic and necessary responsibility of a sovereign nation", she continued. He also went off on other cabinet officials who missed his expectations on stemming the flow of undocumented immigrants in the USA, one source who attended the meeting said. Nielsen defended that very policy during Senate testimony Tuesday. I share his frustration.
But Mexico refused to pay for the wall, and despite Trump's efforts to limit undocumented immigration, the rate of attempted border crossings may have risen - estimates show that in April, US Border Patrol agents apprehended almost 40,000 people in March, or a 200% increase from 2017.
The White House declined specific comment on whether Trump berated Nielsen, her supposed resignation letter and on whether Trump retained confidence in Nielsen, who took over at DHS in December.