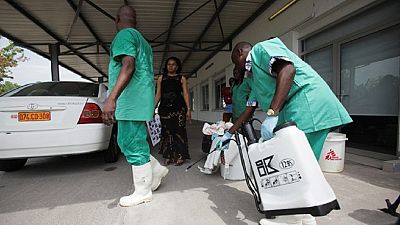 "We want to assure Nigerians that the Federal Government is concerned about the outbreak and will do everything possible to keep the country safe", he added. Only two cases have been confirmed, by a laboratory in Kinshasa. The World Health Organization (WHO) recommends that these diseases be ruled out before diagnosis of Ebola virus.
Since that time, no deaths have been reported among those hospitalized or among health workers treating the ill, it said. This leads to the possibility of the game not holding in order to avoid the disease spreading to Nigeria.
The Nigerian Centre for Disease Control announced it may also send a team to the DNC to help fight the outbreak.
Nigerian immigration authorities recall their experience in 2014 when the world's worst Ebola outbreak killed 11,000 people in Sierra Leone, Guinea and Liberia.
The outbreak of Ebola in Congo has forced Nigeria to step up emergency surveillance activities at all land and airport borders.The Federal Executive Council (FEC) rose from a meeting on Wednesday and directed the Federal Ministry of Health to act appropriately. Congo has a long track record with Ebola, WHO said.
Ebola is believed to be spread over long distances by bats, which can host the virus without dying, as they infect other animals with which they share trees, such as monkeys.
At this level, 80 percent of a population would need to be immunised to prevent outbreaks, even if a highly effective vaccine that protects 90 percent of individuals after vaccination was available.
The government of the Democratic Republic of Congo (DRC) has declared an Ebola outbreak after at least two, and as many as 17, people have died from hemorrhagic fever in the last five weeks.
WHO said Tuesday it is working closely with Congo's government to rapidly scale up its operations and mobilize health partners as it did successfully in Congo past year.
"Working with partners and responding early and in a coordinated way will be vital to containing this deadly disease", said Dr Peter Salama, WHO deputy director-general for emergency preparedness and response, in a statement.