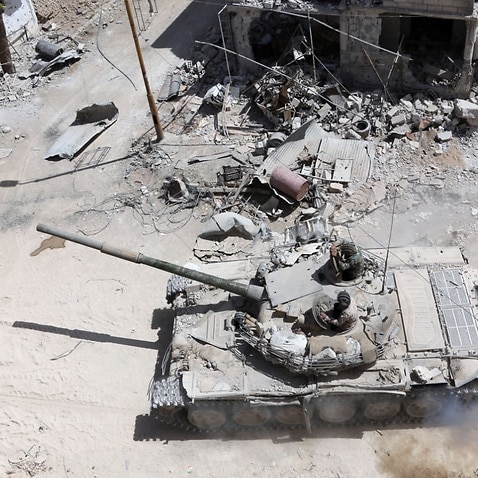 The humanitarian operation in the Syrian region of Eastern Ghouta has not stopped despite recent missile strikes of Western states against targets in the area near Damascus, the head of Russia's center for Syrian reconciliation said on Saturday.
The Syrian government and allied forces launched a massive assault on 18 February to retake the enclave, which had been out of regime control since 2012.
The Syrian Observatory for Human rights, a British-based war monitoring group, says the campaign killed more than 1,600 civilians.
Syrian state TV carried live images of hourslong street celebrations with people dancing and chanting in support of their government's "steadfastness" following unprecedented joint airstrikes by the United States, France and Britain on Syria.
The attack came against the backdrop of an allegation of a chemical weapon attack by the Syrian forces in Douma on April 7 prior to the rebels' evacuation.
The report showed people waving Syrian flags, alongside those of Iran and Russia- the main allies of Syrian President Bashar Assad during years of the country's conflict - in the face of what many called "limited" or even "failed" strikes created to punish Assad for his alleged use of chemical weapons.
President Bashar al-Assad had made the reconquest of Eastern Ghouta a strategic goal.
"Punish the instrument of crime while the criminal is maintained.A joke", said on his Twitter account Mohammed Allouche, a senior official of the group that controlled Douma.
In the aftermath of this attack, the last rebel faction on the ground, the Islamist group Jaich al-Islam, had agreed to an evacuation agreement for its fighters sponsored by Moscow, similar to the initiatives that had already forced the groups Faylaq al-Rahman and Ahrar al-Cham to leave other areas of Ghouta.
The government has consistently denied using chemical weapons, including in Douma, and invited the world's top chemical watchdog to investigate.
The two-month assault on Eastern Ghouta sparked an worldwide outcry, with the head of the United Nations describing the conditions endured by civilians there as "hell on Earth".
The Syrian Army said a clean-up operation was underway in the battered enclave.
The General Command said that engineering units immediately began canvassing squares, streets, and corridors to clear mines and IEDs planted by terrorists in the city, in order to enable the rest of the units to secure liberated areas and prepare them for the return of civilians to their homes safely.
A large number of Eastern Ghouta residents were bussed to the northern province of Idlib, which is largely outside government control and hosts several jihadist and other rebel groups.
Assad has managed to cling on to power, retaking swathes of territory with the help of ally Russian Federation.