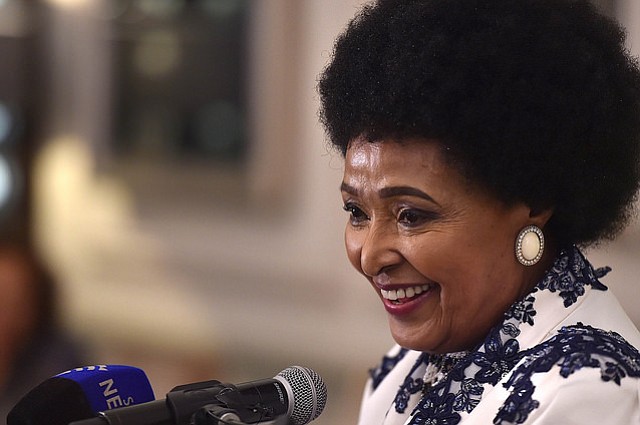 De Lille on Wednesday attended a memorial service organised by the EFF in the Free State town of Brandfort, where Madikizela-Mandela was banished by the apartheid government for eight years.
Cape Town Mayor Patricia De Lille sits among EFF supporters and their leader Julius Malema at the party's memorial for Winnie Madikizela-Mandela.
The Democratic Alliance says it will not punish Cape Town Mayor Patricia de Lille for addressing mourners at an Economic Freedom Fighters (EFF) service for the late Winnie Madikizela-Mandela.
The DA, however, would have welcomed a courtesy call to alert the party of the Mayor's attendance at the event.
While the DA wants to boot her out of her job, it says it's untrue that it's charged her with speaking at the memorial event without informing the party, although it says it expected her to do so as a courtesy.
"Free State DA provincial leader Patricia Komape and DA members in the Free State were at the memorial service as well. People would love to know about Winnie", she said.
"There are occasions when politicians of one party address rallies of another party".
Let's leave the rest for Sunday when we have laid Mam'Winnie to rest.
De Lille and the DA are at loggerheads, with the party laying bribery and corruption charges against her earlier this month. "But we will require from her some explanation about why she didn't tell us'" Selfe said.
De Lille declined to comment specifically on Selfe's comments.
De Lille's appearance at the EFF event raised a lot of eyebrows. The DA leader will be paying his last respects at the official funeral this coming weekend as he had done last week during his visit to the family home.
At the service, De Lille spoke fondly of Madikizela-Mandela and about her strength and contribution to the struggle.