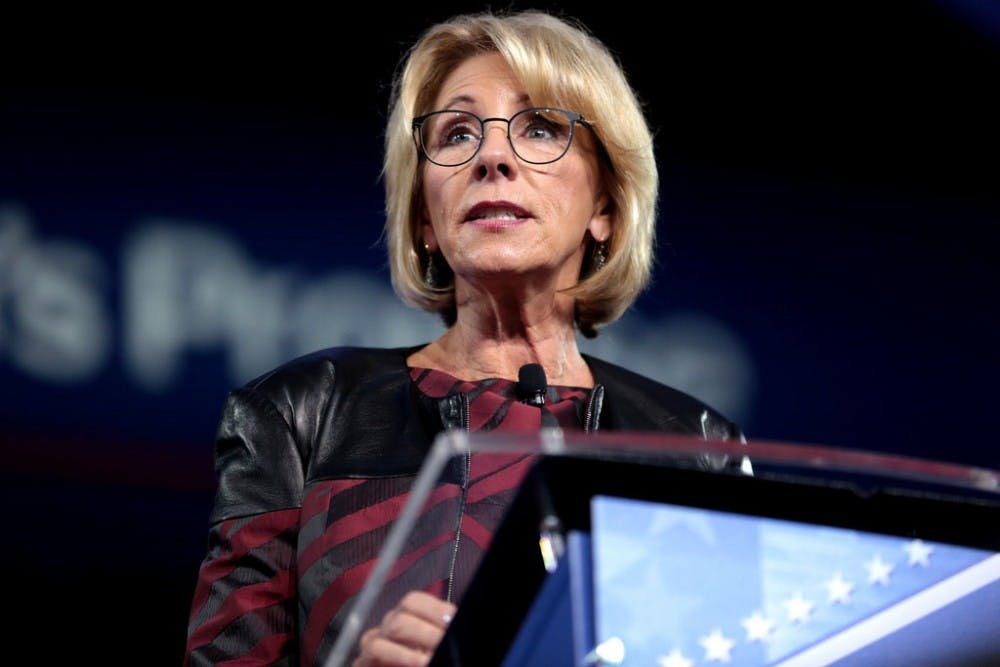 Secretary of Education Betsy DeVos, left, speaks with Commissioner Pam Stewart of the Florida Department of Education before a meeting between President Donald Trump and state and local officials to discuss school safety, in the Roosevelt Room of the White House, Thursday, Feb. 22, 2018, in Washington. The commission has a "very keen sense of urgency", DeVos said, but she wouldn't give a timeline on when it would wrap its work and make any recommendations.
FILE - Rep. Katherine Clark, D-Mass., is pictured in Arlington, Mass., Sept. 8, 2014. Mike Enzi, R-Wyoming, where a school is surrounded by fencing because grizzly bears are common in the area, DeVos said: "I would imagine that there is probably a gun in the schools to protect from potential grizzlies". You know, Madam Secretary, I think we understand where your priorities are.
Rep. Nita Lowey of NY, the ranking Democrat on the full Appropriations Committee, asked what response, if any, DeVos had to a November government watchdog report recommending that parents of students with disabilities get better information about the protections they give up when attending private school.
DeVos, already reeling after a series of rocky, high-profile interviews, unveiled some details of a federal commission on school safety that she will be chairing.
"This "average earnings rule" is not only a theft of data, but more importantly, it is a fact-free attempt by the Department of Education to double cross borrowers who were scammed by Corinthian and then waited months or even years for the relief that the Department promised them", said Noah Zinner, an attorney at Housing and Economic Rights Advocates. "Several questions - do you believe that we have a crisis with gun violence in our country? They are not with the, the young people of this country", Rep. Rosa DeLauro, D-Conn., said in the hearing.
DeVos said the commission will, among other things, consider whether to ban gun sales to people under 21.
"The issue is the differing of punishment by race for the same type of infraction, the disparity there as it relates to suspensions and expulsions", Lee said.
"That is a matter for Congress to decide", DeVos said, smiling.
Lawmakers aired other concerns when questioning DeVos at the hearing, including issues with underperforming schools, proposed cuts to impact aid and programs relied on by low-income school districts and a proposed $1 million cut to the department's Office of Civil Rights, which U.S. Rep. Barbara Lee, D-Calif., called "a slap in the face" to minority students.
"Will you guarantee as secretary of education that that money is included with nondiscrimination policies for those private schools?"
DeVos has been pushing to increase public funding of alternatives to traditional neighborhood schools - such as charter school or private school programs.