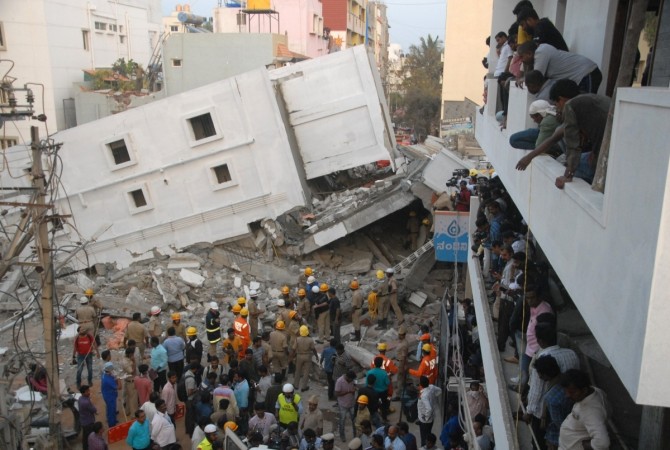 A five-storey under construction building collapsed on Sarjapur road in Bengaluru's Kasavanahalli area leaving three people dead and many trapped in the debris, media reports said.
Locals said several people were rescued from the building. The police officials and the personnel from the State Disaster Relief Force are at the accident site to rescue those trapped.
Deputy Commissioner of Police Abdul Ahad said the incident occurred at 1600 hours and immediately fire brigade vehicles were rushed to the spot and began rescue work. There are still some persons trapped under the debris. Construction experts blame the lax administration and corruption for flouting building rules, which often results in using poor quality materials, inadequate supervision and poor safety standards for workers. The News Minute reported three people were killed and one critically injured, quoting Mayor Sampath Raj.
The under construction building had five storeys. "Rescue efforts by Fire Force and NDRF on". The building is reportedly owned one Kunni Ahmad, who lives in Kerala. The building was under construction for six years.
The building has been under construction for six years.
This collapse comes on the back of multiple instances of building bye law violations.
In October 2017, a two-storey house collapsed in Bengaluru's Ejipura.