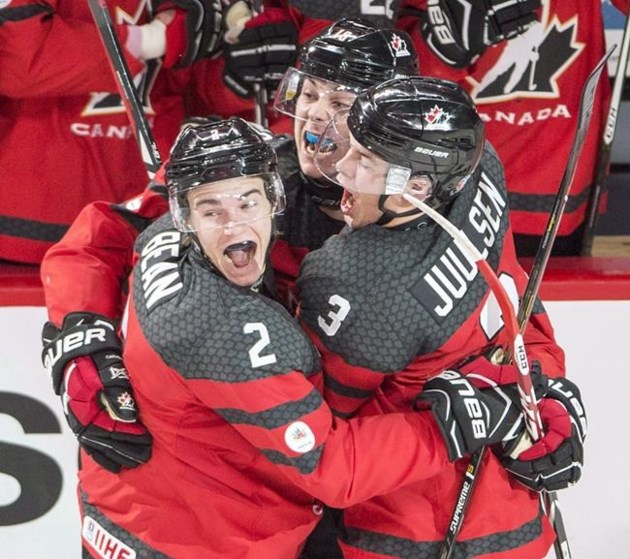 MA freshmen defensemen Cale Makar and Mario Ferraro were selected for Team Canada's World Junior Championship selection camp roster, announced Wednesday afternoon by Hockey Canada. The team will be trimmed to a 23-man roster at the conclusion of the camp.
Thirteen of the 22 players selected hailed from a BCHL team including the Interior Division's Brett Stapley from Vernon, Jonny Tychonick and Ryan O'Connell from Penticton, and Rylan Van Unen from Merritt. This year, two Canadian teams will face off against the Czech Republic, Russia, the Unites States and Switzerland. No members of the Medicine Hat Tigers were invited to the selection camp.
Makar, the Minutemen's leading scorer among defensemen with nine points, was projected to make the lineup after a strong showing in August's World Junior Summer Showcase for Team Canada, where the Calgary, Alberta, native registered a goal and assist in three games played.
The 2017 World Junior A Challenge is presented by Hockey Canada, the CJHL and Hockey Nova Scotia, in partnership with NHL Central Scouting.
The Canada West team will kick off the tournament against the Czech Republic on Sunday.
Canada's National Junior Team Sport Chek Selection Camp features a trio of games - two against a U SPORTS team on December 13 and 14, and a game against Denmark on December 15.
"Hockey at all levels across the country continues to produce talented and elite-level hockey players that makes our evaluation and selection process a hard one", said Shawn Bullock, Hockey Canada's senior manager of hockey operations and men's national teams. Team Canada West won gold at the first two tournaments, in 2006 and 2007, and also took home gold in 2011 and 2015.