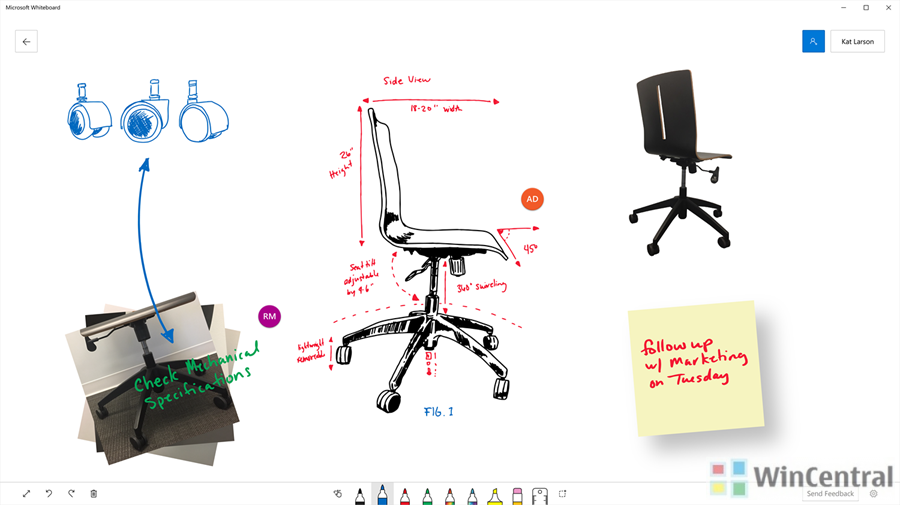 Earlier in 2017, announced alongside the new Surface Pro, Microsoft debuted Whiteboard, a collaborative digital inking app for Windows 10.
When it announced the new Surface Pro a few months back, Microsoft also used the opportunity to preview Whiteboard, a Windows 10 app created to offer creative and business collaboration across devices.
Intelligent ink recognizes your freeform drawings and turns them into standard shapes, so it's easy to create great-looking tables, diagrams, and flowcharts. You can see how the app works in the short video below. It's really created to let people share ink across multiple devices, and any work will be automatically saved to separate boards. "No need to take photos of your canvas or email photos to others when you need to get them up to speed", the blog stated. The app is free to use for everyone, but Microsoft notes that multi-party collaboration requires one participant to have an active Office 365 subscription. Using your fingers, you can swipe to different sections of your board, turn the virtual ruler to the angle you want, and drag and drop images to create a photo stack. The app's real-time collaboration capabilities allow multiple participants to draw on the same canvas using their own PCs. A Microsoft or Office 365 account is required to save boards.
During private beta testing, Microsoft says it saw a number of teams use Whiteboard to collaborate on product designs, engineering plans, and remote brainstorming sessions.
Microsoft Whiteboard will be available here from the Microsoft Store sometime later today. Currently, it is only available in English, but it is expected to be released in other languages in the coming months. Microsoft Whiteboard will also eventually replace the native whiteboard app running on Surface Hub, but both can be installed alongside one another during the preview period.