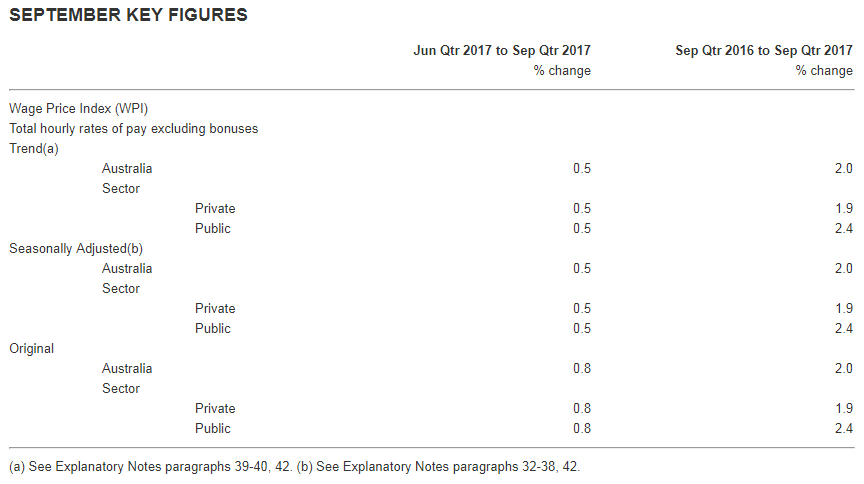 Workers are still getting used to the "new black" of wages growth, which is running at just two per cent a year, a leading economist says.
While some commentary had forecast a substantial increase in wage growth, thanks to the July increase in minimum wages, only a slight uptick was recorded in the September quarter.
"Annual wages growth increased marginally to 2.0 per cent in the September quarter 2017".
CommSec chief economist Craig James said this would ordinarily be a positive result given wages are still outpacing prices.
Australian wage growth has come in well below expectations, again.
"Wages are growing at a slower pace because globally challenged businesses are reluctant to lift prices on the fear of losing sales".
The weakness in private-sector wage growth continues to be driven by the mining sector, although there was an improvement in wage growth in the manufacturing, financial and business services sectors.
The Australian dollar dropped against its US counterpart on Wednesday, after the release of downbeat Australian data, while the New Zealand dollar held steady as sentiment on the greenback remained fragile.
The Australian Bureau of Statistics (ABS), indicated "quarterly wages growth in the range of 0.4 to 0.6 per cent for the last 13 quarters (from the June quarter 2014)", meaning that the minimum wage rise had virtually no material impact on overall wage growth.
The slowdown in the housing market meant that construction sector-related wages remained weak. wage growth in the real estate related sector improved modestly, albeit from very low levels.