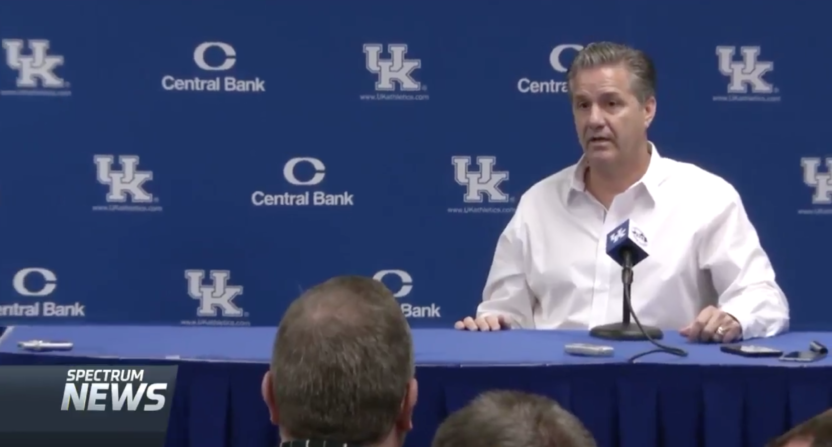 In his first appearance with reporters since the FBI investigation into alleged corruption in college basketball was revealed, Kentucky men's basketball Coach John Calipari faced a number of questions on the issue at the beginning of the United Kingdom media day press conference Thursday.
Finally, he just got fed up with the questions, but he picked the wrong reporter to deny.
Beat reporter Jerry Tipton wouldn't take no for an answer and, with microphone in hand, informed Calipari - who's been famously punished for violating NCAA rules with recruits while at the University of MA and Memphis - he had another.
"Wait a minute, wait a minute".
"This is a media day, not coach day".
After a question about the likelihood of Rick Pitino being fired from the University of Louisville, Calipari said "Look, it's unfortunate, all the stuff that's come down, but let's talk about my team".
"I am entitled to ask a question", Tipton continued.
When Kentucky held their media day Thursday, Jerry Tipton, a reporter for the Lexington Herald-Leader, tried to ask the coach a question about potential investigations, but Calipari aimed to shrug him off. "We don't even know if what you're saying is true", Calipari snipped. Other than confirming the NCAA has yet to contact Kentucky, Calipari said the situation was unpredictable and grew defensive when the media kept asking for the answers he didn't have.
Calipari said that the players he has this year are interchangeable, "If we had Jarred playing, you could play without a point guard because he could be the point guard".
Calipari was clearly agitated and snipped back by getting the last word in. How about a basketball question?