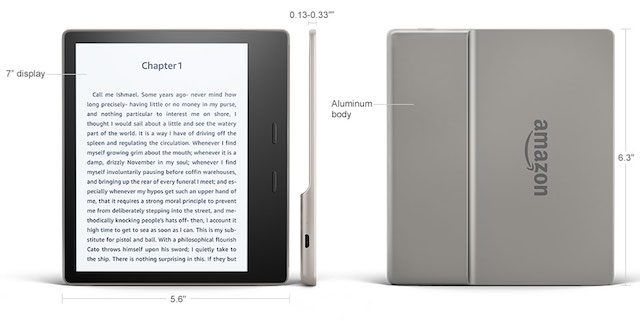 Ahead of the 10th anniversary of the original Kindle in November, the new top-end device aims to lead Amazon's e-readers into the next decade with a new aluminium design, longer built-in battery life and a larger, brighter screen.
Not only is the Kindle Oasis the only waterproof e-reader Amazon offers, it's also the only Kindle model capable of storing Audible audiobooks. The new Kindle Oasis is priced at Rs. 21,999 for the 8GB model and Rs. 28,999 for the 32GB model (Wi-Fi + free 3G). Last month, the company introduced several new Echo speakers and rolled out refreshed tablets. The Oasis is also now water resistant to IP8X standards, which means it will survive dunks in depths of up to 2m in water for up to 60 minutes, and has integrated Bluetooth connectivity for hooking up wireless headphones or speakers.
The portable device was first introduced in 2007 and sparked the rise of e-readers and digital books. The 7-inch Kindle Oasis features a metal chassis and it's completely waterproof (IPX8 rating). Another nifty feature, Audible integration will allow users to seamlessly switch from a textual version of a book to its audio counterpart, without having to open the Kindle or Audible mobile apps.
The second generation Kindle Oasis also acknowledges consumer love for physical books in its design, which Amazon says has been ergonomically developed to feel like the spine of a book when resting in the hand.
Amazon is offering a 4G model for the cellular variant in the USA, while in India, it's offering a Wi-Fi + free 3G model. The default storage capacity is 4GB and can be increased to 8GB.
The Kindle Oasis is available for pre-order online now at JB Hi-Fi and Officeworks for $389AUD and the 32GB device for AUD$529. The base model - without 4G capability and with 8 GB of storage - costs $250 (roughly Rs. 16,290). The water-proof fabric covers are priced at Rs. 2,999 on Amazon.in and come in three colours - Charcoal, Indigo and Sandstone.