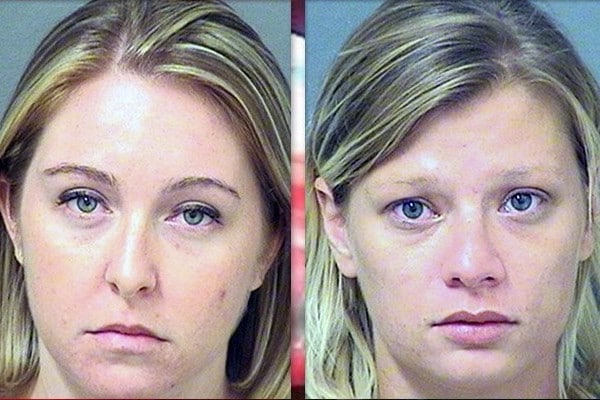 Two Florida women have been charged with child neglect after one overdosed on heroin as the two did drugs together in a parked SUV with their infant children in the back seat, according to Boynton Beach police.
'For whatever reason, they decided yesterday to buy heroin and then snorted it while inside the vehicle with their children, ' said the Boynton Beach Police Department on Facebook.
"They later told officers that they met in a drug treatment program and bonded during their pregnancies", police wrote on Facebook.
For whatever reason, they decided on Thursday to buy heroin and then snorted it while inside the auto with their children. One of the women overdosed and became unconscious and the second started convulsing.
Pictured Boynton Beach, Florida mothers, Kristen Leigh O'Connor (l) and June Schweinhart (r) who were arrested after overdosing on heroin.
The last thing Kristen O'Connor remembers before passing out is hearing her friend in the driver's seat yelling, "Oh my God! oh my God!".
A woman who had been nearby saw the commotion and spoke with police until they arrived.
Their two children were taken to the police department while officials from the Department of Children and Families were notified. Both were taken to Bethesda Hospital East.
They were found properly strapped into their vehicle seats by police.
O'Connor and Schweinhart were soon arrested and charged with child neglect.
The Florida Department of Children and Families took custody of the babies before turning them over to relatives.
O'Connor has since been released on a $4,500 bond, while Schweinhart is still in custody on a $3,000 bond.
'We hope this serves as a wake-up call for these moms, and that they seek further treatment for their addiction, ' cops said.
According to the arrest report, O'Connor allowed Schweinhart to drive after they snorted the heroin because she thought Scheweinhart would be able to drive better under the influence of the drug.
A judge ruled Friday that O'Connor can be with her child only when the baby's grandmother is present.